Our last stop didn't require any driving as the GoGreen greenhouses are located at the Leichtag Foundation. They were utilizing some of the Ecke Ranch greenhouses.
GoGreen grows organic lettuces in large greenhouses utilizing hydroponic growing methods. They grow and ship organic lettuce all over the country.
Here is picture of one of their products. They keep the root system intact to keep the lettuce alive during shipping.
We were greeted by Pierre Sleiman, the founder of GoGreen Agriculture. He is only 28 years old and owns the largest Organic Greenhouse in the US. Here are some pictures of him, along with his bio from the 1st Grow Riverside conference where he spoke.
Pierre Sleiman, Founder And CEO Of Go Green Agriculture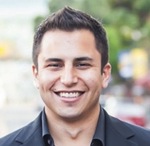 Pierre Sleiman is the founder and CEO of
Go Green Agriculture
, an innovative company that grows produce inside high-tech greenhouses using hydroponics. Go Green's mission is to setup greenhouses across the country to provide local jobs and fresh, delicious, and nutritious produce to the community.
Pierre has become involved in the mission of accelerating the movement towards local and sustainable farming and fostering interest in youth to choose agriculture as an exciting career. Pierre is the founder and CEO of Go Green Agriculture, a local farming business that grows local, high-quality leafy greens. He has been named as one of the "50 People to Watch in 2013″ by San Diego Magazine and has been featured in over two-dozen other publications and live news broadcasts. He holds a Masters degree in Business from UC San Diego and a double Computer Science/Business bachelor's degree from UC Riverside. Pierre was also recently elected to the Board of Directors of the San Diego Farm Bureau.
He commented to us, that his parents help him receive his education, and now his family works for him. Here is a picture of Pierre and his father who helps him manage the greenhouses.
We grows lettuce for large grocery store chains and costco, and also restaurants in the area. He wouldn't allow us to take pictures inside the greenhouse because of his proprietary growing methods.
Here are some stock pictures of the greenhouse interiors. The lettuce is grown in plastic tubes and the water slowly trickles over the roots providing water and nutrients. This first picture is an exterior picture of the greenhouses that I took.